What is a Camera Trap?
A camera trap is a camera that fires automatically when an animal is detected. A camera trap can be left out for days, weeks or even months at a time. The longer it is left, the greater the probability of it capturing an image of a rare or elusive animal.
In order to obtain decent camera trap images, it is best to use a high-quality DSLR camera. A sensor is used to detect animals and trigger the camera. One or more off-camera flashes can be added to photograph nocturnal creatures. These flashes can be set up to provide dramatic studio-like lighting.
Free Guide
Interested in learning more about camera trap photography equipment and techniques? My free Camtraptions Guide to Remote & Camera Trap Photography is a great place to start! Click the button below to download it for free. I have also created a free video series that goes through how to set up a DSLR camera trap on Camtraptions, which you can find here.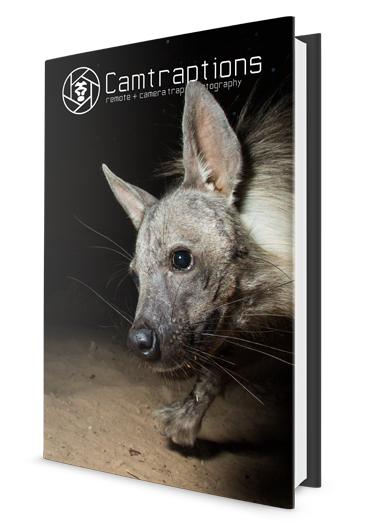 Free Guide to Camera Trap Photography
I first started experimenting with camera traps in 2009 but at first my progress was hindered by unreliable and difficult-to-use equipment. Eventually, I got tired of working within the limitations of this equipment, so I decided to design my own solution…
In 2012, I moved to Zambia for a year, and during that time I developed a camera trap sensor that solved all of the problems I had encountered to date. I built several prototypes of a new PIR Motion Sensor which I tested extensively in the field. I eventually came up with a solution that was reliable, durable, weather-proof, quick to set-up and could last several weeks on a single set of batteries.
In December 2014 I started selling these sensors through my company, Camtraptions Ltd. I have also designed and sourced a range of other products that take the pain and hassle out of DSLR camera trapping, including a protective camera housing, wireless flash triggers and more.
Visit the Camtraptions store to view my full range of camera trap products:
Camtraptions PIR Motion Sensor